My wonderful friends Dan and Yasmin are getting married in December. Hoorah!
Now this, this is exciting. Weddings are always exciting, of course, but it's especially awesome to be friends with two people for years and think, Geez, when are these guys getting hitched already?
And lo, here they are, they are going to do it. They are getting married. WAHOO. I knew it!!!
In addition to being fun, thoughtful, generally amazing people who enjoy inappropriate humor almost as much as myself, both Dan and Yasmin are foodies. If I ever need a restaurant or wine recommendation, I text Yasmin and she tells me what to do. And Dan, Dan made bruschetta four years ago and I have been hounding him for the recipe ever since. (He says the secret is to buy the ugliest heirloom tomatoes available, but I'm not buying it. There is no way an ugly tomato can taste that good).
And so, with that in mind, when we started talking about setting up a day to take their engagement photos, I was not surprised when they told me the locations would be 1. The farmer's market and 2. A gourmet doughnut shop. Because, you know, they have those now. Gourmet doughnuts are a thing. Doughnuts are the new cupcake. And have you heard of crounuts? A hybrid between doughnut and croissant. Oh snap. It's a thing. It's delicious. It will throw you off your diet, body slam you against the ground, spit on your face and yell WHATCHOO GOT, GLUTEN FREE!? But holy crap, are they good.
You can see why doughnuts are trending right now…
I took 900+ photos that morning, 600 of which were blurred and useless, mostly because I was laughing too hard to keep the camera steady. We got some great shots in other locations but I'll save those for Dan and Yasmin to share with friends or keep private as they chose. I just wanted to take a minute to show how cute they are and expose the doughnut situation up in here. It is intense.
This place, Glazed and Infused, carries a lot more than the typical sprinkled and unsprinkled. They offer little treasures like…banana cake with cream cheese frosting, salted caramel drizzle and candied walnuts… yeast raised ring with caramel glaze, pretzels, MM's, peanuts and potato chips…maple long johns topped with peppered maple bacon. So yeah. You could say it was a fun adventure. If you are in the Chicago area I suggest you stop in sometime. Scrumptiousness aside, the giant paper mache dragon eating doughnuts is worth the trip.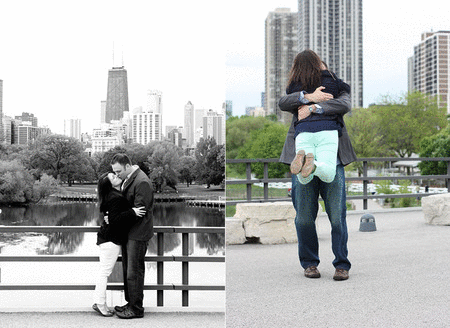 Thank you to Glazed and Infused for letting us take pictures on a crowded Saturday morning. Thank you to Dan and Yasmin for letting me be a part of the lead-up to their special day. Mazel tov!